We are fortunate in Canada to have an abundance of woods from which to make furniture, but what type of wood furniture is the best for your home? If you don't know pine from maple or oak, then you've come to the right place. In this blog post, we'll discuss the characteristics of each wood so that you can make a more informed decision about how the type of wood will affect the appearance of a piece of furniture.
Oak Furniture
Oak has been used in furniture making for centuries. It is valued for its strength and the beauty of its attractive grain. Our builders use red oak when crafting their solid wood furniture pieces. Red oak is pale brown with a reddish tinge, with prominent rays or streaks. Oak furniture can be done either in regular cut and some of our builders will also use quarter cut or quarter sawn oak. Quarter sawn oak will have more rays and streaks, but a more uniform grain than regular cut oak. Due to the heavy grain, oak furniture can compete with other hardwoods and may clash with the wood of your floors or cabinets. Oak is perfect for mission style furniture, for formal pieces and a colonial look.
Wood photo courtesy of preverco.com.
Maple Furniture
The maple tree has long been associated with our Canadian Heritage. Maple is a strong, dense, attractive hardwood that has been used in furniture making for generations. Its natural colour is light brown to almost white. Maple has significantly less grain than other woods allowing pieces to blend with other woods in your home. The lack of grain also makes it the best choice for furniture finished in a paint colour. Solid maple provides the perfect balance of durability and visual appeal. Maple is perfect for contemporary or modern furniture styles.

Wood photo courtesy of the wood database.
Cherry Furniture
Black cherry is an elegant wood and is considered one of the finest materials for building solid wood furniture. The grain highlights the natural beauty of the wood and falls between maple and oak in this regard. Its heartwood is naturally dark reddish-brown and contains mineral deposits and white sapwood. Unlike other woods, cherry will darken over time to develop a deep, rich patina. Cherry is the most expensive standard wood used by our Mennonite and Amish builders. Solid cherry is perfect for formal furniture in the dining room, bedroom or office.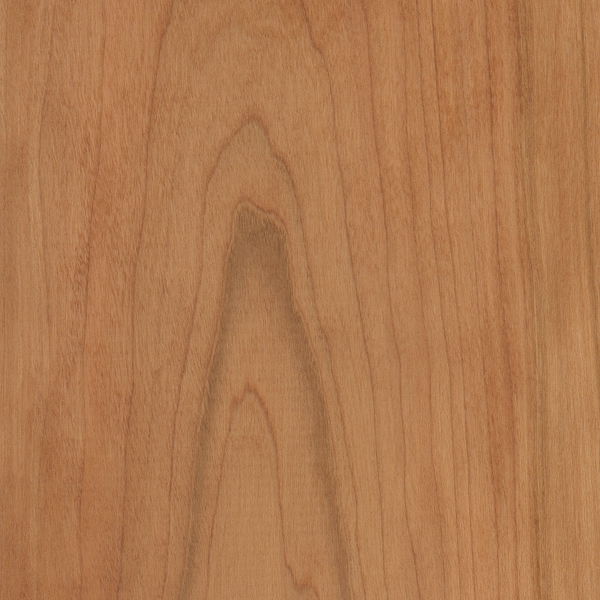 Wood photo courtesy of the wood database.
Pine Furniture
Unlike the other woods listed, pine is a soft wood. As such, pine is more likely to dent or scratch than the hardwoods. However, it is the least expensive wood used by Mennonite furniture craftsmen. Pine gets most of its character from the knots and will be the primary wood used in unfinished furniture. It varies in colour from cream to yellow-brown with a close grain. Pine will give a rustic or cottage look to furniture, particularly with a millsawn or rough cut texture. Rough cut pine will give you the same look as reclaimed furniture. Pine is perfect for colonial furniture or to add rustic or country charm to your home.
Wood photo courtesy of the wood database.
Wormy Maple Furniture
Wormy maple was once a regular maple tree, but the Ambrosia beetle makes its home in the tree and will cause discolourations in the wood and leave holes. The holes look like worm holes, hence the name wormy maple. Some places will also call it Ambrosia Maple or Rustic Maple because it sounds nicer. The naturally formed tunnels and dark streaks give a decorative effect and make each piece unique. The discolourations and imperfections give wormy maple a lower price point than maple. However, many people love the rustic charm and character that they give to a piece making it one of the most popular woods. Wormy maple is perfect for anyone who wants character from a hardwood, but will also suit contemporary or modern looks.
Wood photo courtesy of the wood database.
* Please note the the natural colour of the wood will affect the appearance of the stain on the wood and the same stain will look different on different types of wood. Certain of our Mennonite and Amish furniture builders will also use walnut, ash, poplar and other species. Please ask for a quote should you be interested in any other type of wood. Fine Oak Things offers delivery of its solid wood furniture to Milton, Burlington, Oakville, Mississauga, Toronto and other cities across the GTA.